Comenzaré mi incursión en este blog con un grupo «stoner» no muy conocido, ya que he decidido dejar a los grandes para más adelante y comenzar por los menos famosos.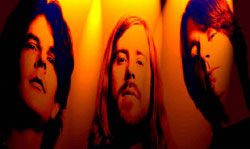 «The Atomic Bitchwax» se formó en 1992 en Long Branch, New Jersey. Entre sus principales miembros he de destacar a Ed Mundell actual guitarrista de Monsters Magnet, que en 2003 fue reemplazado por Fynn Ryan; el bajista es Chris Kosnik y el batería Bob Pantella que también forma parte de Monsters Magnet.
Su discografía no es muy amplia que se diga para un grupo que se formo hace quince años. Tienen cuatro álbumes…
Atomic Bitchwax I (1999)
«Stork Theme»
«Birth to the Earth»
«Hey Alright»
«Crazed Fandango»
«Hope You Die»
«Ain't Nobody Gonna Hang Me in My Home»
«Kiss the Sun»
«Gettin' Old»
«Last of the V8 Interceptors»
«Shitkicker»
«The Formula»
Atomic Bitchwax II (2000)
«Ice Pick Thief»
«Forty-Five»
«Play the Game» (Atomic Rooster)
«Smokescreen»
«Cast Aside Your Masks»
«The Cloning Chamber»
«Marching on the Skulls of the Dead»
«Dishing Out a Heavy Dose of Tough Love»
«Solid»
«Liquor Queen»
3 (2005)
«Destroyer»
«You Ought to Know»
«You Can't Win»
«Dark Chi»
«Maybe I'm a Leo» (Deep Purple)
«Force Field»
«Going Guido»
«Passenger»
«If I Had a Gun»
«Half as Much»
Boxriff (2006)
Este último se compone de 4 nuevas canciones y 13 en directo más un DVD con el directo íntegro.
Por último os dejo unos vídeos y a ver si os provocan algo de curiosidad por el grupo:
[youtube=http://www.youtube.com/watch?v=KlX0Q9vSDbY]
[youtube=http://www.youtube.com/watch?v=yaO7REfymwM&feature=related]
[youtube=http://www.youtube.com/watch?v=0zOhQkaHuBk&feature=related]
Web de la banda:
http://www.myspace.com/theatomicbitchwax
Espero que os haya gustado este post, pero si veis cosas que se pueden mejorar no dudéis en decírmelo, que una es novata en esto. :S
¡Hasta la próxima!